PROVINCE
The towns of Brindisi's Province
The province of Brindisi has been established in 1927. It covers an area from Apulian northern hills (Murge) to southern plains, formerly swampy.
It's a typical earth of frontier, a zone that has always carried out the task of interconnecting northern latin Apulia to the southern greek origin land, called Salento.
Almost every town of the province has its own dialect, different from each other for both words and cadence, because of the many different migration paths and dominations.
A lot of small harbours and small gulfs can be found along its shore, as well as long sand beaches alternated by cliffs; there are many tourist installations on its northern side.
It's an area with a good agricultural vocation, where its world famous olive trees and vineyards represent the most important production, together with other high quality vegetables.
Click the name of towns on the map (sections available only in Italian):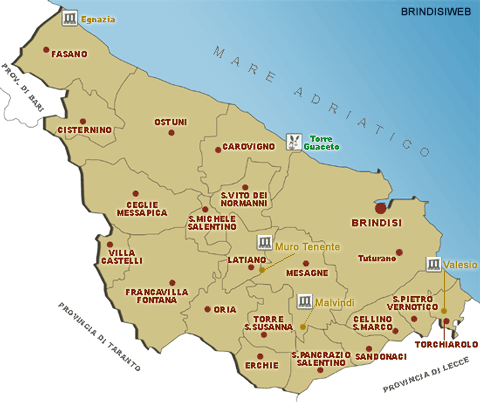 [Fasano] [Cisternino] [Ostuni] [Villa Castelli]
[Ceglie M.ca] [San Vito] [San Michele] [Carovigno]
[Francavilla] [Latiano] [Oria] [Mesagne] [San Pietro V.co] [Cellino]
[Torchiarolo] [Sandonaci] [San Pancrazio] [Torre Santa Susanna] [Erchie]
and moreover:
the archeological site of Egnazia and Valesio
Marine Protected Area and Natural Reserve of Torre Guaceto (in english)
the neighbourhood of Tuturano (Brindisi)