NATURE - Parks and Reserves
NATURAL RESERVE OF TORRE GUACETO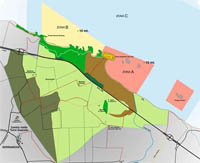 The protected park of Torre Guaceto, situated about 18 km north of Brindisi, is an important area of naturalistic interest; it was born to the end of seventies and nowadays is managed by the Consortium formed from the town councils of Brindisi and Carovigno and from WWF Italia.
During the summer the Consortium organizes excursions like ciclotrekking (by bicycle), walks and seawatching (more info +39 0831.989885).
The entire area is rich of a diversity of habitats and landscapes; the ecosystems includes Marine Protected Area, approximately 730 hectares of sea facing the coast, and about 210 hectares of the Natural State Reserve; it has international relevance according to the Ramsar agreement guidelines.
The area is dominated by the ancient Aragones tower built in 1531, nowadays WWF Center of Environmental Education.
(Click on the map for enlarge)
Marine Protected Area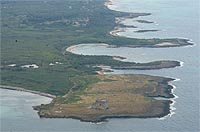 It is about 730 hectares of sea with five little islands, which still carry traces of the frequentation of anthropic cultures by archaeological finds (from the prehistory until to the late Middle Age).
The marine habitat is extremely rich of animal and vegetable species; the seabed represents an important wealth for the sea of Salento territory. In the area close to the coast there are few coral reefs and the Oceanic Posidonia sea grass, offering perfect conditions enabling a wide variety of marine species to inhabit this area of sea. The presence of the "Caretta Caretta" turtles is quite relevant, as far as the dolphins.
Here is possible to practice "sea-watching", swimming on the sea surface, with the park's guide, to observe the flora and marine fauna.
Natural State Reserve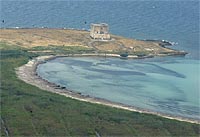 It include the humid zone, Maquis and the beaches with their old-ages sandy dunes.
The Maquis is populated by some mammals like the badger, the weasel, the fox, some little rodents, the reptiles like green lizard and some endemic species of lizards. The shrubs host nests of Blackcap, Goldfinch, Little-eye, Serin, Nightingale, Cinciallegra, Robin and Blackbird.
The flora is characterized by the aromatic plants of Myrtle, the Evergreen Mastic, the Aleppo Pine tree, the Evergreen Oak, the Alaterno, acacia, brooms and secular plants of juniper that produce berries called "Cuddles".
The cane-brake area is characterized by "phragmites" and some plants of "typha", biomarker of the presence of fresh water (Guaceto means "fresh water", from the arab word "gaw-sit"). Here there is a mix of subsoil's fresh water and marine water that form a brackish marsh.
The zone is a natural destination of numerous migratory birds, as the Hawks and the mallards, and residence of several amphibians and invertebrates.
On the beautiful beaches, where the wild rabbits live, one can find the marine species of radish, narcissus, lily, the convolvulus, and other species which form the naturalistic landscape of the whole zone.
Here the old-age sandy dunes strengthened by the plants' root, offer an enchanting landscape that may remind the desert's dunes.
The best period for visiting the park is from March to November, when it's very interesting to admire the intense colours of the flowers and of the small plants, and observe the migratory birds and wildlife.
The park is always open, for booking a visits one can call the Visitor Centre of the Consortium (+39 0831 9898859).
Fotogallery

- clicca per ingrandire

Web Link:
» Official website