Tastes & Food - TYPICAL FOODS
The city of Brindisi and its provinces can boast a rich and fresh gastronomic produce. These derive from both land and sea and together they find an ideal and tasty balance. With the use of spontaneous herbs and luscious fresh vegetables, delicious dishes are prepared. These produces are also bottled and preserved, thanks to the superior quality of the oil obtained from the olives cultivated and milled in the region. A variety of cheeses, meats and fresh fish enrich a simple yet flavoursome menu which is usually accompanied by good quality local bread. Fresh seasonal fruit picked daily ready for the table as well as delicious pastries prepared typically for special events and celebrations conclude a typical and traditional a Mediterranean culinary experience. Accompanied by good sweet dessert wine such as Aleatico di Puglia or the delicious Primitivo Dolce, makes for a memorable dinning experience.
» Olive Oil
The olive oil of the region of Puglia is of an excellent quality and is nurtured from cultivation to milling which dates back to the Greek and Roman times.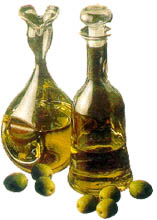 The oil produced in the central region of the province, (Carovigno, Ceglie Messapica, Cisternino, Fasano, Ostuni, S. Michele Salentino, S. Vito dei Normanni and Villa Castelli) has gained the prestigious recognition DOP, Denominazione d'Origine Protetta - "Collina di Brindisi" . This oil is extracted from a variety of olives named Ogliarola Barese (70%) and the balance made up from, Cellina di Nardò, Coratina, Frantoio, Leccino as well as other varieties. The flavour of this oil is fruity with a hint of spice and bitterness and has great fluidity. It is well used for cooking and dressings for foods such as fish, carpaccio, roasts and risotto.
Oil which is produced from the remaining region and recognised of quality, DOP are 'Terra d'Otranto', which is obtained from olives known as, Cellina, Saracena or Ogliarola Leccese or Salentina. The organoleptic characteristics of these oils are fruity and sweet with a fragrance of legumes and green grass, this oil too has excellent fluidity. The recommended use for this produce is as a condiment but is also used on legumes and soups.
» Wines
Deriving from a noble and historic wine growing culture the region of Puglia produces wines which are telling of its history and local economics. This is also due to the favourable conditions and terrain of the region of Brindisi where a rich wine culture dating back to the times of the Romans, still lives on. Wines such as the 'Brindisi Rosso', 'Brindisi Rosso Riserva' and 'Brindisi Rosato' have all gained the prestigious DOC (Denominazione d'Origine Controllata) acknowledgment.
More information on Grapes and Wines page.
Correlated documents

:

» Traditional Recipes

» Eating in town

» Grapes and Wines