Tastes & Food - TRADITIONAL RECIPES
Fish Soup

Ingredients:
800g of scorpion fish, 500g mussel's, clams and squid, 500g ripe gem tomato's, celery, parsley, onion, olive oil, pepper, hard peasant bread.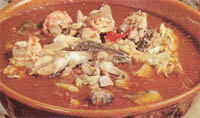 Procedure:
Remove the harder and longer bones from the scorpion fish.
Rinse and clean the totani and squid, scrub the mussel's and clams well.
Fry them in a deep pan with a half a class of little oil, onion and celery.
Add the peeled and chopped tomato's with a tablespoon of chopped parsley and simmer for 5 minutes.
Add the squid and the totani and after 10 minutes the remainder of the fish.
Spice with some pepper and cover to simmer for half an hour.
Taste for salt if necessary.
Toast slices of the bread and place at the bottom of the serving dish and arrange the fish over the bread pouring the soup over the fish.


Versione Italiana
Brindisi på dansk