Tastes & Food - TRADITIONAL RECIPES
Baked spaghetti with tomato's

Ingredients for 4 persons:


Spaghetti, tomato's (preferably cherry tomato's), oregano, salt, Garlic, fresh basil, Extra virgin olive oil, Breadcrumbs, Parmesan or pecorino cheese, Chili.
.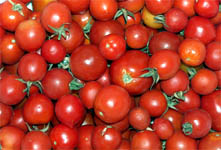 Procedure:
Line a baking dish with a layer of tomato's sliced in half with the sliced part facing down; dress these with some salt, oregano, chili, garlic, fresh basil leaves, cheese, (pecorino or parmesan), a sprinkle of breadcrumbs and a generous quantity of olive oil.
Place this in the oven and allow to bake for 15 minutes.
In the meantime, boil the spaghetti al dente and when they are ready, toss them together with the oven dish together with the tomato's.
Serve the spaghetti with a generous sprinkle of cheese and a basil leave.... Bon Appetite!
This recipe, kindly offered by Pina Pennetta


Versione Italiana
Brindisi på dansk