Tastes & Food - TRADITIONAL RECIPES
Fried Pettole

Li Pettuli", (dialect for this classic fried dumpling), is a recipe traditionally used on the eve of Our Lady's name day. Many are the variations from the classic dough, some of which are made with codfish, others with anchovies, and some with cauliflower, with raisins, broccoli, with pine nuts, Etc.
Those that are not eaten on the day are eaten the next, reheated and dressed with honey or cooked wine. There is however, a recipe that according to reliable sources is unique to Brindisi which derived from the sources great grandmother who was better known as "la pittulara" (the Pettola lady).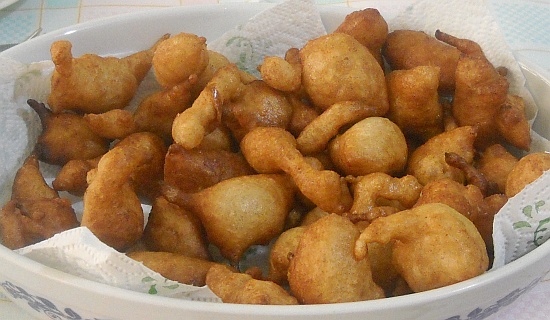 Procedure:
A simple preparation procedure: In a bowl add some four, break up some east and slowly add some warm water to form a fluid dough. Work it vigorously and then allow it to rest and rise for about an hour.
Whilst working the dough, add halved capers, chopped raw onions, black olives, diced sweet vine tomato's.
During the proofing stage heat up some oil in a deep frying pan approximately 15cm.
Take a tablespoon and spoon up some mixture and drop it off in the hot oil using your finger to remove the dough from the spoon.
Fry until golden brown on both sides, then removing to drain on absorbent paper.
Serve hot.
Recipe published in:
"Nannuma Cucinava Cussi" ( My Gandmother cooked like this) by Raffaele Cucci
published by Tipografia Editrice Brindisina 1993


Versione Italiana
Brindisi på dansk