Tastes & Food - TRADITIONAL RECIPES
Mussels with Potato

Ingredients:
1kg potato's, 1kg mussels, bread crumbs, parsley, garlic, white onion, olive oil.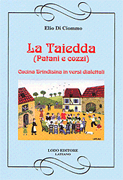 Procedure:
After having washed the mussels well, open them, discarding one half, but conserving and filtering the sea juices which are in the mussels.
Peel the potato's and slice them in thin slices. Wash them to remove the starch and place them in an oven proof dish where you would have already layered the bottom with the sliced white onion..
Over the layer of sliced potato, add a layer of the half shell mussels, cover these with a layer of bread crumbs, a grinding of black pepper, chopped parsley and a sprinkle of crushed garlic, just for the aroma. Drizzle some olive oil over the top and finally add the filtered juices from the mussels.
If you so desire, you may add another layer as the first.
Add some water to the dish and place in a hot oven until the potatoes are cooked and the dish is sufficiently gratin.
This recipe is published in "La Taiedda"
The Brindisi Cuisine in dialect verses by Elio Di Ciommo


Versione Italiana
Brindisi på dansk