Tastes & Food - TRADITIONAL RECIPES
Orecchiette with "Cime di Rape"

Cime di Rape (Broccole Rabe) are rich green leafed vegetables from the turnip family which resembles the broccoli plant, also sprouting a head with light yellow flowers which are also edible. This vegetable is best eaten young or else it could become bitter. It is best served steamed or sautéed with garlic and olive oil. Also known as the Italian broccoli, rabe, or rapini.
Orecchiette is originally, a hand made pasta, shaped as a small ear, hence the name "orecchiette'. Today you will find them machine made and packed dry and are of excellent quality. They are made from the simple ingredients of flour and water and are also known to be made with whole wheat flour.

Ingredients:


400g of Orecchiette, 1kg of "cime di rape", 1 salted anchovy, 1 glove of garlic, 4 bay leaves, 150g soft bread, olive oil and salt.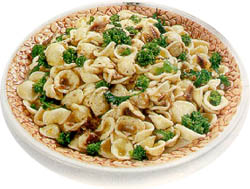 Procedure:
Cut off the broccoli rabe, wash them well and cut them into small heads.
Bring to the boil in sufficient salted water, add the pasta to the water and after a few minutes the turnip heads so that they boil up together.
In a casserole, preferably made of terracotta, lightly fry the garlic with the anchovy and the bay leaves.
Allow the anchovy to break up over a low heat.
In the meantime, separately fry the soft bread in olive oil until it reaches a golden colour.
Drain the pasta and the turnip heads and dress it with the anchovy mix and the fried bread.
Add a chilli if desired and serve.


Versione Italiana
Brindisi på dansk