Tastes & Food - TRADITIONAL RECIPES
Mussels "Mpepata"

Ingredients:
1Kg Mussels, 8 tomatos, Oregano, Parsley, Sliced Lemon, 1 Clove of Garlic, Olive oil.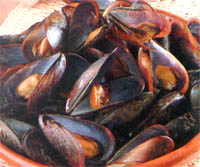 Procedure:
Carefully wash the mussels, making sure in taking care with the outer shells.
Place the mussels in a casserole dish, adding all the other ingredients.
Place the casserole on the hot plate and cover.
The dish is ready when the mussels open.
Serve warm.


Versione Italiana
Brindisi på dansk