Tastes & Food - TRADITIONAL RECIPES
Stuffed Aubergine

Ingredients:
Aubergines, 2 table spoons grated pecorino cheese, 20g capers, pitted olives, olive oil, Neapolitan sauce, 2 eggs and bread crumbs.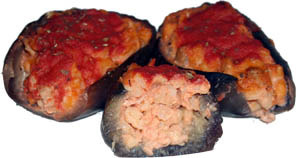 Procedure:
Halve the aubergines scooping out the pulp with a spoon and fry the hollow halves.
Dice the pulp and fry together with the onions.
When they are nearly done, add the capers and the olives so that the flavours are incorporated.
Add the tomato sauce and the crumbs so that it all comes together.
Stuff the aubergine halves and cover with more tomato sauce, place in a moderate oven and bake until a light crust has formed.


Versione Italiana
Brindisi på dansk