Tastes & Food - TRADITIONAL RECIPES
"Lampascioni"

Lampascioni are a real delicacy for the people of Puglia.
These wild onions with a slight bitter taste grow in the uncultivated soils in the south of Italy.
They come out during the ploughing season and are sold as a delicacy.
Unlike normal onions, they take 4 to 5 years to reach maturity.

Ingredients:
1kg, "lampascioni", extra virgin olive oil, salt, black pepper, red wine vinegar.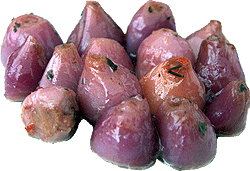 Procedure:
Clean the 'lampascioni' well removing all the soil and wash them under running water.
Dry them well and pierce the core.
Boil them in an abundance of salted water and a little vinegar, to taste.
Drain them once soft, crush them and dress with olive oil, vinegar, salt and ground black pepper. These are also excellent served with a broad beans pure`.


Versione Italiana
Brindisi på dansk