Tastes & Food - TRADITIONAL RECIPES
Horse Meat "Involtini" (Roulade)

Ingredients:


400g of horse meat sliced into thin steaks, capers, grated cheese, parsley, salt, pepper, smoked bacon strips, peeled tomato's, garlic.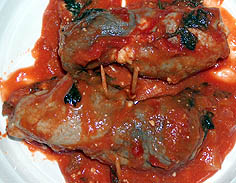 Procedure:
Place the steak pieces on a work surface, season them with the cheese, parsley, garlic, capers and smoked strips of bacon.
Roll the steaks up to create small parcels and secure them with tooth-picks.
Gently fry them in a pan with little olive oil.
Prepare a light tomato sauce by first frying some garlic in olive oil then adding the passed peeled tomato's.
Place the fried involtini in the sauce and allow to cook for a further few minutes.


Versione Italiana
Brindisi på dansk