Tastes & Food - TRADITIONAL RECIPES
Mussels with Broad beans

Ingredients for four persons:
500g white, shelled broad beans, 1 large old potato, 1 medium size onion, 800g of mussels, extra virgin olive oil, 4 thin slices of day old bread, ½ a teaspoon of dried oregano, salt and pepper to taste.
Preparation time: 40 min.
Level of difficulty: Medium
Cooking time: 60 min - Cost: Low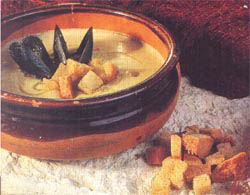 Procedure:
Place the broad beans in a pot covered with 1lt of cold water, together with the peeled, washed and sliced potato; the peeled washed and sliced onion and salt to taste.
Bring to the boil and reduce to a medium heat. Cook until it becomes thick and creamy. Add 2 to 3 tablespoons of extra virgin olive oil, taste for salt and if the puree is too dense, add some water to loosen it.
In the meantime, wash the mussels well, place them in another pot together with the oregano, a little pepper and 2 to 3 tablespoons of olive oil. Cover these and allow cooking for at least 7 to 8 minutes on high allowing them to open, and then after they have cooled, remove the mussels from their shells.
Cut the sliced bread into cubes, sprinkle with olive oil and toast these in the oven at 180oC for ten minutes. An alternative would be to fry these in olive oil.
Pour the broad bean puree over the toasted bread, add the mussels to the puree without mixing and serve immediately.
Chefs Note:
500g of shelled broad beans; correspond to 2Kg of fresh broad beans. This dish is very nutritious and could be served as a single dish, accompanied by a salad for dinner with friends.
Recipe by Fabio Fatelli


Versione Italiana
Brindisi på dansk