Tastes & Food - TRADITIONAL RECIPES
Chickpeas with 'Tria' pasta

A recipe typical of the Salento region.
"Tria" pasta being hand made
Ingredients:


100g flour, 200g semolina, 300g chickpeas, a pinch of bicarbonate of soda, 1 onion, 1 clove of garlic, a stick of celery, 2 bay leaves, 3 tomatoes (winter tine tomato's), parsley, olive oil, salt, pepper or chili.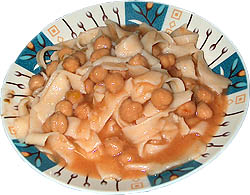 Procedure:
Preparation for the 'tria' pasta.
On a wooden pastry board, mix the flour and semolina into a dough with tepid water which has been slightly salted. Knead the dough for approximately 10 minutes until you obtain a smooth and elastic consistency. Cover this with a damp kitchen towel and allow to rest for approximately half an hour.
Subsequently, divide the dough into two or four pieces and with a rolling pin, flatten this dough into a sheet. Roll this up as you would, a Swiss roll, so that you can cut it into piece approximately 2-3 millimeters wide, you will obtain 'tagliatelle' pasta (broad ribbon noodles) when unfolded.
Place the chickpeas in water with a pinch of bicarbonate of soda for approximately 10 hours, (the tinned verity may do if you cannot find the dry ingredient)
Rinse the chickpeas and boil them in salted water over a low heat, covered in an abundance of water together with the bay leaves, salt to taste, the celery stick, the onion, halved and the clove of garlic. Allow all this to boil over a low heat for approximately 3-4 hours or until the chick peas are cooked.
When the chickpeas are almost done, fry part of the 'tria' pasta in hot oil until it turns amber. Careful not to burn them. The rest can be boiled in an abundance of salted water. Combine all and if to your taste, sprinkle with black ground pepper or crushed dry chili. Sprinkle with chopped parsley and serve.
Variation:
In a pot, fry the onion in some oil until translucent, add the fried 'tria' pasta and the boiled one as well into the onion mix, add the chickpea broth. Mix together and sprinkle with either black ground pepper or crushed dry chili and add a dusting of parsley .


Versione Italiana
Brindisi på dansk