Churches - TEMPLE OF ST. JOHN SEPULCHRE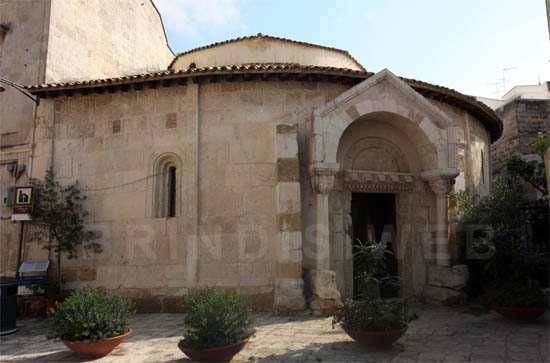 The temple of St. Giovanni (Saint John Sepulchre), known also as the Church of the Holy Sepulcher is a circular construction built towards the end of the XI century by the Normans over the pre-existent church.
It is one of the finest examples of Romanesque architecture in all Southern Italy.
During the XII century a new portal was opened, which today is the main entrance to the church. It has an architrave made from marble which is supported by two columns which rest on two lions made from marble as well.
This church was hold by the Order of Holy Sepulcher (Templars Knights) and subsequently by the Knights Hospitaller (also known as Knights of Rhodes, Knights of Malta, the Order of St John of Jerusalem).
The interior of the church is in the shape of a "horse shoe" with eight columns in concentric circle within. This design is in memory of the Holy Sepulcher in Jerusalem.
The original vaulted roof has been replaced by a new wood roof.
On the walls there are fresco paintings from the XII-XV centuries.
After the restorations necessary to bring the church back to use after it was almost destroyed by earth quakes, it was used as a museum from the years 1850 to 1955. It was a centre of cultural meetings attended by illustrious personalities such as Mahatma Gandhi and the famous Indian poet Rabindranath Tagore.