Monuments - ITALIAN SAILOR MONUMENT (The "Big Rudder")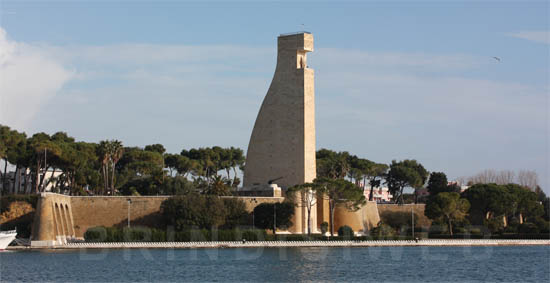 Crossing the Pigonati Channel you enter the main port, naturally divided in two parts, West and East Coves; at this point one meets the Italian Sailor Monument (called also the Big Rudder) built in 1933 in the shape of a rudder, which stands 54 meters tall.
Together with the Romans Columns it is considered the symbol of the city.
It was planned by Luigi Brunati and Amerigo Bartoli and built out of local solid stone of a beautiful golden colour. It's 53 mts. high.The funds for this construction took approximately 10 years to collect and the famous tenor Tito Schipa took a particular interest in this project contributing the takings from his concerts.
At the base of the monument is a sacred chapel in memory of the fallen sailors during both world wars as well as the bell from the battle ship "Benedetto Brin" , which sank in the port of Brindisi in 1915. Inside there are engraved the names of the 6.000 italian sailors fallen during the first war world, to whose memory the monument has been dedicated.
On the upper large square are kept the anchors of the Austro-Hungarian battleships "Tegethoff" and "Viribus Unitis" sunk by the Italians in 1918 as well two submarine cannons of the same era.
A marble Our Lady statue has been put at the top of the monument in 1954.
From the top of monument the panoramic view to the city and harbour is most impressive (photo).
Timetable fot visiting the Italian Sailor Monument:
Every day ( 09.00 am - 01.00 pm; 04.30 pm - 07.00 pm. - closed on Thursdays)
Free entrance
Photogallery

- Click on the thumbnails to enlarge

View from
the entrance

View from harbour

Side view

Sacred Chapel

View from
the base

Bird's eye views

Anchor

Submarine cannon

Mappa: where is the Sailor Monument