Churches - St. Michael Archangel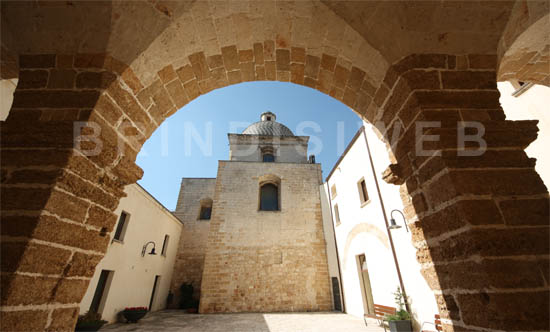 The church is located in Via Tarantini, not far away from the Cathedral; its main characteristic is the "cupola", made with polychrome bricks.
It has been recently restored and nowadays it's used for meetings and seminars. The church is made by a single nave with chapels on both sides, the inner part is almost completely lacking of furnishings.
Besides there are the monastery's rooms, also recently restored and used for cultural events, in the past were used as school and dormitory, and sometimes as a jail.
The Bishop Francesco De Estrada bought the entire building for educational activities that started on 1664 by the Monks of "Scuole Pie" (Pious Schools) with a good success.
Here St. Pompilio Maria Pirrotti teached just after being ordained in 1734.
Nowadays the church host a museum of contemporary art, an exhibition space by MAP [Museo Mediterraneo dell'Arte Presente]; in the former monastery's rooms (first floor) there is the Armando Scivales's Gallery's collection.
Photogallery

- Click on the thumbnails to enlarge

Outer part

Inside

Pulpit

Entrance
monastery

Cupola

Cloister

Cloister

Cloister

Cupola

Gallery collection

Map of the churches