Monuments - ARAGONES CASTLE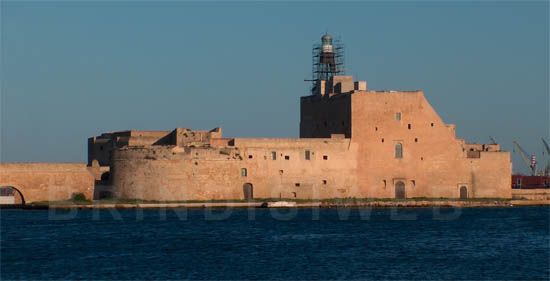 Approaching Brindisi from the sea you will see the Aragones Castle, better known as Alfonsino Castle, which was built in 1491 on the St. Andrea island opposite the port, by Ferdinand I of Aragon, in defence of its city, against possible sea attacks.
For many centuries, it has been utilized for this purpose.
It is made up by two distinct parts: the Red Castle, so named for the distinct and characteristic colours of its bricks, and the Fortress, called also Sea Fortress, built afterwards as a depot housing the garrison.
Nowadays it is being restored.
Photogallery

- Click on the thumbnails to enlarge

The Castle (bird's eye views)

The Castle from the medium port

The great hall

Courtyard

Fortress gate

Dock (north side)

Dock (south side)

View of the Fortress

Views of the Castle

Red Castle

Vicereale channel
amd castle

Fortress and Castle plan

Map: where is the castle